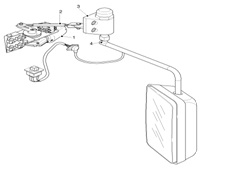 The AS CHV outside mirror drive is an electric crank drive designed for a rated voltage of 24 V DC. Power is transferred to the outside mirror bearing system via a length-adjustable rod linkage.
The outside mirror bearing is mounted to the exterior of the vehicle by means of a screw connection. The bearing is fitted with a slip coupling which protects the outside mirror in the case of a collision.
The clamp joint is the carrier element of the outside mirror drive and is held by means of an expansion connection on the outside mirror bearing system. The mirror arm is pushed over the shaft of the clamp connection and welded. The mirror itself must be provided on the vehicle
Further images can be found here.